Welcome to the GrantPathways newsletter. Here you will find updates in the industry, quick links and stories of clients with whom we are working. I hope you enjoy this edition of GrantPathways newsletter. As always, your comments are welcomed.
---
Featured Client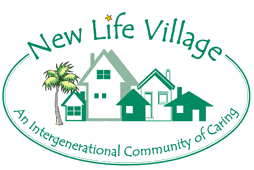 GrantPathways has been privileged over the past several years to work with Sister Claire LeBoeuf in her efforts to build New Life Village, an intergenerational community of families and senior citizens for the care and support of children in foster care who are the least likely to get adopted.  New Life Village (NLV) is an innovative, alternative approach to foster care in Hillsborough County.  The Village will be modeled after Hope Meadows, a community in Illinois that has demonstrated that, by bringing adoptive families, abused and neglected children, and seniors to live together in a single, contiguous community, ordinary people are capable of extraordinary forms of care and commitment to one another.
The ultimate goal of this project is to build New Life Village on 72 acres of land in northeast Hillsborough County.  The Village will provide housing, at a nominal rent, for families each willing to adopt up to four children from foster care.  Ten homes will be built for adoptive families.  Eighteen duplexes for senior couples and individuals will be built.  Seniors will receive a reduction in rent in exchange for serving as the community's volunteers and as surrogate grandparents to the children.  New Life Village will exist for children who are more difficult to adopt, but for whom adoptive parents are more likely to be found if interested families know they won't be parenting alone and will have the backing of an entire community.  At the same time, seniors who, in their retirement, want more meaning and purpose will find just that in the roles they play as New Life Village's volunteers and keepers.
Not to be kept down by the current economy and out of passion to serve foster children, over the past year the leadership at New Life Village has also been investigating alternative sights in the greater Tampa Bay area to develop a pilot program of New Life Village.  While unsuccessful to date, the agency recently tried to purchase a large apartment complex in the City of Tampa to renovate in order to meet the needs of the New Life Village concept.  The agency applied for CDBG funding from the city to purchase the property, but the application was not successful for this round.  However, not to be defeated, the agency will continue to seek to identify new properties that might meet the requirements for this project.
GrantPathways, unlike many non-profit capacity building and grant writing companies, specializes in serving clients like New Life Village.  We love to work with smaller non-profits as they build their dreams and capacity.  Our staff also has an extensive background in affordable housing and financial project development.  We are looking forward to the future as we see New Life Village reach its goals and change the lives of hundreds of at-risk children and families.
---
Non-Profit Know How
At GrantPathways we often tell our clients that they need to think of themselves as a business with a mission.  Other times we say they are a business with a big heart.  We recently heard another non-profit expert refer to it as a mission-driven business.  Regardless of how it is stated, the point we are trying to make is that non-profits must operate with both a business and mission perspective.
Most non-profits excel at addressing the mission components of their non-profit business.  (We will reserve space in a future GrantPathways newsletter to address some pertinent mission-related issues.)   However, the business side, especially for new and smaller agencies, can be a much bigger challenge.  In an effort to help our clients reach their business goals, we point them to one of the cornerstones for business – The Better Business Bureau.  The BBB has developed a very strong set of standards to help non-profits evaluate their performance as a non-profit business.  Listed below is an abbreviated listing of their top 20 standards and excerpts from their website.  If your non-profit can meet these standards you can then apply to participate in the BBB's charitable seal program.   Find the full standards at www.bbb.org/us/Charity-Standards/
"The overarching principle of the BBB Wise Giving Alliance Standards for Charity Accountability is full disclosure to donors and potential donors at the time of solicitation and thereafter. However, where indicated, the standards recommend ethical practices beyond the act of disclosure in order to ensure public confidence and encourage giving. As voluntary standards, they also go beyond the requirements of local, state and federal laws and regulations."
---
Guidelines for Charitable Accountability
1. A board of directors that provides adequate oversight of the charity's operations and its staff.
2. A board of directors with a minimum of five voting members.
3. A minimum of three evenly spaced meetings per year of the full governing body with a majority in attendance, with face-to-face participation.
4. Not more than one or 10% (whichever is greater) directly or indirectly compensated person(s) serving as voting member(s) of the board. Compensated members shall not serve as the board's chair or treasurer.
5. No transaction(s) in which any board or staff members have material conflicting interests with the charity resulting from any relationship or business affiliation.
6. Have a board policy of assessing, no less than every two years, the organization's performance and effectiveness and of determining future actions required to achieve its mission.
7. Submit to the organization's governing body, for its approval, a written report that outlines the results of the aforementioned performance and effectiveness assessment and recommendations for future actions.
8. Spend at least 65% of its total expenses on program activities.
9. Spend no more than 35% of related contributions on fund raising.
10. Avoid accumulating funds that could be used for current program activities. To meet this standard, the charity's unrestricted net assets available for use should not be more than three times the size of the past year's expenses or three times the size of the current year's budget, whichever is higher.
11. Make available to all, on request, complete annual financial statements prepared in accordance with generally accepted accounting principles.
12. Include in the financial statements a breakdown of expenses (e.g., salaries, travel, postage, etc.) that shows what portion of these expenses was allocated to program, fund raising, and administrative activities.
13. Accurately report the charity's expenses, including any joint cost allocations, in its financial statements.
14. Have a board-approved annual budget for its current fiscal year, outlining projected expenses for major program activities, fund raising, and administration.
15. Have solicitations and informational materials, distributed by any means, that are accurate, truthful and not misleading, both in whole and in part.
16. Have an annual report available to all, on request, that includes:
a.     the organization's mission statement,
b.    a summary of the past year's program service accomplishments,
c.     a roster of the officers and members of the board of directors,
d.    financial information that includes (i) total income in the past fiscal year, (ii) expenses in the same program, fund raising and administrative categories as in the financial statements, and (iii) ending net assets.
17. Include on any charity websites that solicit contributions, the same information that is recommended for annual reports, as well as the mailing address of the charity and electronic access to its most recent IRS Form 990.
18. Address privacy concerns of donors by
a.     providing in written appeals, at least annually, a means (e.g., such as a check off box) for both new and continuing donors to inform the charity if they do not want their name and address shared outside the organization, and
b.    providing a clear, prominent and easily accessible privacy policy on any of its websites that tells visitors (i) what information, if any, is being collected about them by the charity and how this information will be used, (ii) how to contact the charity to review personal information collected and request corrections, (iii) how to inform the charity (e.g., a check off box) that the visitor does not wish his/her personal information to be shared outside the organization, and (iv) what security measures the charity has in place to protect personal information.
19. Clearly disclose how the charity benefits from the sale of products or services (i.e., cause-related marketing) that state or imply that a charity will benefit from a consumer sale or transaction. Such promotions should disclose, at the point of solicitation:
a.     the actual or anticipated portion of the purchase price that will benefit the charity (e.g., 5 cents will be contributed to abc charity for every xyz company product sold),
b.    the duration of the campaign (e.g., the month of October),
c.     any maximum or guaranteed minimum contribution amount (e.g., up to a maximum of $200,000).
20. Respond promptly to and act on complaints brought to its attention by the BBB Wise Giving Alliance and/or local BBBs about fund raising practices, privacy policy violations and/or other issues.
Copyright 2003, BBB Wise Giving Alliances
---
GrantPathways Services
Our staff would love to have the opportunity to discuss the capacity building needs of your agency.  In addition to writing winning proposals, Grantpathways offers expertise in a wide range of non-profit management services.   Our staff conducts in-depth research using state of the art systems along with providing one on one leadership consultation, non-profit management assistance, strategic planning, board training and grant management assistance.  Give us a call or email us today!