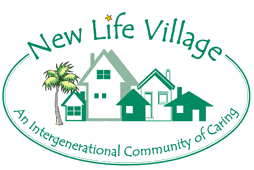 GrantPathways has been privileged over the past several years to work with Sister Claire LeBoeuf in her efforts to build New Life Village, an intergenerational community of families and senior citizens for the care and support of children in foster care who are the least likely to get adopted.  New Life Village (NLV) is an innovative, alternative approach to foster care in Hillsborough County.  The Village will be modeled after Hope Meadows, a community in Illinois that has demonstrated that, by bringing adoptive families, abused and neglected children, and seniors to live together in a single, contiguous community, ordinary people are capable of extraordinary forms of care and commitment to one another.
The ultimate goal of this project is to build New Life Village on 72 acres of land in northeast Hillsborough County.  The Village will provide housing, at a nominal rent, for families each willing to adopt up to four children from foster care.  Ten homes will be built for adoptive families.  Eighteen duplexes for senior couples and individuals will be built.  Seniors will receive a reduction in rent in exchange for serving as the community's volunteers and as surrogate grandparents to the children.  New Life Village will exist for children who are more difficult to adopt, but for whom adoptive parents are more likely to be found if interested families know they won't be parenting alone and will have the backing of an entire community.  At the same time, seniors who, in their retirement, want more meaning and purpose will find just that in the roles they play as New Life Village's volunteers and keepers.
Not to be kept down by the current economy and out of passion to serve foster children, over the past year the leadership at New Life Village has also been investigating alternative sights in the greater Tampa Bay area to develop a pilot program of New Life Village.  While unsuccessful to date, the agency recently tried to purchase a large apartment complex in the City of Tampa to renovate in order to meet the needs of the New Life Village concept.  The agency applied for CDBG funding from the city to purchase the property, but the application was not successful for this round.  However, not to be defeated, the agency will continue to seek to identify new properties that might meet the requirements for this project.
GrantPathways, unlike many non-profit capacity building and grant writing companies, specializes in serving clients like New Life Village.  We love to work with smaller non-profits as they build their dreams and capacity.  Our staff also has an extensive background in affordable housing and financial project development.  We are looking forward to the future as we see New Life Village reach its goals and change the lives of hundreds of at-risk children and families.